New Zealand & Australia Cruise on Celebrity – Current Medical/Dental Health Issues with a Perspective from Down Under
Start Date : January 17, 2019
End Date : January 31, 2019
Time : 11:59 pm to6:00 pm
Phone : 877-737-7005
Email : info@pestravel.com
Location :
Auckland Cruise Port
Description
Current Medical/Dental Health Issues with a Perspective from Down Under
CME/CE Lecture Seminars for Medical, Dental, Nursing and Allied Healthcare Professionals
This Seminar is planned for 15 Continuing Education Credit Hours



PES is fortunate to have dental and medical practitioners representing a variety of specialties participating in the CME/CE sessions. PES understands the importance of offering inter-professional healthcare education, allowing colleagues to gain cross-specialty perspectives and updates in the treatment and prevention of disease. The need to adapt best practice models in the context of emerging healthcare reforms impacting patient care delivery and access to care is an important issue for all healthcare practitioners.



Planned In Country Healthcare Topics Include:








Changing Demographics & Chronic Disease Patterns in the Pacific: Impact on Healthcare Practice


From the Aborigines to the Maori: Healthcare Demands in Indigenous Cultures


From Treatment to Prevention: The Upside from Down Under


Overview of New Zealand Healthcare System: New Approaches & Challenges


Emerging Medical & Dental Issues: Treatment & Prevention


Updates in General Medicine/Primary Care: A Year in Review


Updates in Travel Medicine


Update in Women's Health








Cruise Itinerary Highlights: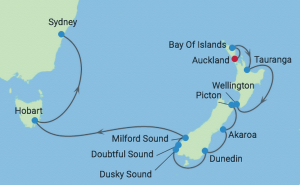 Relax on the pristine white-sand beaches in Bay of Islands, New Zealand's first British settlement and a top summertime destination


Sail into Dusky Sound, Doubtful Sound, and Milford Sound, the spectacular fjords of New Zealand's Fiordland National Park, a wildlife paradise with towering cliffs and waterfalls


Stop in Hobart, Tasmania, a charming colonial harbor fringed with natural wonders and outdoor adventure


Tauranga offers idyllic golden beaches and a rich Maori history


Visit Akaroa, set in an extinct volcanic crater, it is a prime spot for Hector's dolphin, fur seal, and penguin viewing


Explore Dunedin, known for its European-style architecture and the dramatic Otago Peninsula, home to albatross, sea lions, and penguins





Registration Info
Admission :
Go to http://pestravel.com or call 877-737-7005 for more info...
Contact the Organizer
Organized by
Organized by PEStravel
Professional Education Society
Email: info@pestravel.com

Event Categories: Critical Care, Emergency Medicine, General Surgery, Health & Nutrition, and Internal Medicine.